Inspired by Liz, my fellow Girl Gone Oscar Wilde, I compiled a list of the best (and worst) books I read in 2016. Now that 2017 is half done, I figured I should finally finish and post this:
2016 was a good year of reading for me. I've always been an avid reader, but ever since I graduated from high school, I have struggled to read as much for pleasure as I would like, usually overwhelmed by mounds of compulsory school (once as a student and now as a teacher) reading. Last year I decided that I was not going to allow other demands on my time to take precedence over one of my favorite pastimes and dedicated myself to the redevelopment of my main hobby.
Best Books
Pop Sonnets: Shakespearean Spins on Your Favorite Songs by Erik Didriksen
From western Philadelphia I hail,
Where in my youth I'd play upon the green
'Til – rue the day! – I found myself assail'd
By ruffians contemptible and mean.
Although the spat was trivial and brief,
It wounded my dear mother deep within;
And so, to give her conscience sweet relief,
She sent me forth to live amongst her kin.
When to my port of call I'd been conveyed,
I came upon a coachman most unique;
And yet, I simply took the trip and paid,
Despite his cab's decor and fresh mystique.
– I survey all the land with princely mein
– In fair Bel-Air, where I do lay my scene.
Once again, I have Liz to thank for introducing me to all the greatest things in my life. At her house one evening, she showed me this book she had gotten from the library and I read the entire book in one sitting, laughing the whole time. The title is fairly self-explanatory: Didriksen fashions favorite radio hits into classic Shakespearean poetry. I immediately ordered the book on Amazon when I got home that night and read the poems to my roommates throughout the week, making them guess the song. Hours of fun were had by all. My favorites from the book include Baby Got Back by Sir Mix-a-Lot, #Selfie by The Chainsmokers, and Never Gonna Give You Up by Rick Astley.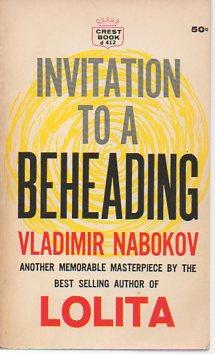 Invitation to a Beheading by Vladimir Nabokov
Alone in the dark, Cincinnatus smiled. I am quite willing to admit that they are a deception but right now I believe in them so much that I infect them with the truth.
Honestly, I'd never heard of Nabokov until I was looking through a bookcase at a friend's house one night and my eye was drawn to his Russian name and the intriguing title. I started reading the first few pages and was simultaneously confused and completely engrossed. I bought the book a few days later and finished it a day or two after that. Nabokov's prose is beautiful and disorienting and complex and lyrical and fragmented and mesmerizing all at once. The narrative style is disjointed and fantastical but captivating once I adjusted to it. Nabokov now has a firm spot on my list of favorite writers. 10/10 would recommend to anyone who can take a little existential whiplash.
His Excellency: George Washington by Joseph J Ellis
Washington found himself in the ironic position of being the indispensable man in a political world that regarded all leaders as indispensable.
I know it's not en vogue to admire rich, white men, but after reading this biography, I have decided that George Washington deserves all of the praise and adoration he receives. He was at times obstinate and impatient, and had luck rather than military brilliance on his side, yet he was sensible, down-to-earth, and acutely aware of his own follies, which, I believe, made him the best possible kind of leader. He surrounded himself with men smarter than himself and listened to and learned from their expertise. He was guided by a strong sense of morality and integrity and was kind and generous to those around him. That he was a slave owner is the main stain on his otherwise perfect legacy. But, rather than try to defend himself with false excuses about African inferiority (such as his contemporary Thomas Jefferson), he was aware of and wrestled with the dichotomy between fighting for the right of all men to be equal and knowing that thousands of people in his new nation lived in bondage.  He then did the best he could to mitigate this contradiction in his own life. The book is shorter and more readable than most biographical tomes, plus, it provided a lot of historical insight into Hamilton, which I spent my entire summer listening to.
East of Eden by John Steinbeck
The Hebrew word, the word timshel – 'Thou mayest' – that gives a choice. It might be the most important word in the world. That says the way is open. Why, that makes a man great, that gives him stature with the gods, for in his weakness, he still has the great choice. He can choose his course and fight it through and win. I have a new love for that glittering instrument, the human soul. It is a lovely and unique thing in the universe. It is always attacked and never destroyed – because 'Thou mayest.'
I didn't read a lot of classics in high school because my teachers were too edgy for that, so I've been trying to catch up on everything I missed. Several of my friends told me this was their favorite book, so I decided to give it a try. The biblical allegory of the plot is thinly veiled, but provides interesting fictional context for the characters and the decisions they made. A little misogynistic (really no commiseration with Eve), but the motifs about fate, free will, and sin more than make up for that.
Honorable Mention
Of Mice and Men by John Steinbeck
Just like heaven. Ever'body wants a little piece of lan'. I read plenty of books out here. Nobody never gets to heaven, and nobody gets no land. It's just in their head. They're all the time talkin' about it, but it's jus' in their head.
Completely opposite of East of Eden's maximalist style, I finished this book in one sitting. Intriguing ideas about our own helplessness in life were especially interesting to compare with the free will commentary of East of Eden.
Flipped by Wendelin Van Draanen
Get beyond his eyes and his smile and the sheen of his hair — Look at what's really there.
I want all my students to read this book to help them understand the nearly (for them) incomprehensible idea that our perspectives and judgments are sometimes wrong, and sometimes we need to employ a little empathy.
Harry Potter and the Cursed Child by JK Rowling, Jack Thorne, and John Tiffany
The rumor is that he is Voldemort's son. It's probably rubbish. I mean… look, he's got a nose.
I didn't love this book when I read it but I almost cried tears of joy and laughter and grief and elation when I saw the play which redeemed it completely in my eyes.
Worst Books
The Life-Changing Magic of Tidying Up: The Japanese Art of Decluttering and Organizing by Marie Kondo
From the moment you start tidying, you will be compelled to reset your life. As a result, your life will start to change. That's why the task of putting your house in order should be done quickly. It allows you to confront the issues that are really important. Tidying is just a tool, not the final destination. The true goal should be to establish the lifestyle you want most once your house has been put in order.
Allow me to paraphrase the first 200 pages of the book: "I'm going to tell you something that's going to be important. It's really cool and really important and it's going to change your life and I'm going to tell you about it. I'll tell you about it and you will be surprised at how cool and important and life-changing it is. It's going to change your life with how cool and important it is. Just wait until I tell you about it."
And then I stopped reading. Maybe my life would have been changed with her cool and important secret, but I didn't have the patience to hang around and find out what it was.
Stargirl by Jerry Spinelli
in her answers in class, she often spoke of sea horses, but she did not know what a football was.
Summary: Adolescent verminophile stalker is shunned by high school society because she's a complete lunatic. Then she's briefly popular because teenagers like ridiculous things. Then she's scorned again and disappears suddenly and readers are relieved that they don't have to hear about her anymore. Boyfriend whines a lot. Extra demerits: cover design done by a second grader on Microsoft Paint.
I'm well on my way to reaching my reading goal for 2017 (a book a week! I admit, I'm a little behind) and I'm open to your recommendations!